Remote Learning
All work will be set for students via Satchel One this can be accessed via a smart phone, tablet or computer. If your child has any problems accessing Satchel One please email enquiry@hillcrest.bham.sch.uk and a member of staff will contact you to support.
Students can access their individual work by logging in or can search for their class assignments on the open access version of the site.
Pupils in all year groups will receive some live teaching, pre-recorded lessons from the school's teaching staff, some pre-recorded video lessons from both The Oak National Academy and Greenshaw Learning Trust and set work on Satchel One and some online learning e.g. Hegerty, Seneca and Active learn. Pupils will have a daily roll call and will continue remotely with the school's 'Read Aloud' programme.

Students should also use their Knowledge Organisers to self-quiz for an hour each day (split into three 20-minute slots).

Students should also continue to read as much as possible.
Mr S Abbotts SLT Lead for remote learning.
Click here for - Remote Learning Policy.
Remote Education Information for Parents
Microsoft Teams – Student 'How to' Guide
Knowledge Organisers
Click here for a study guide on effective revision and study habits.
Example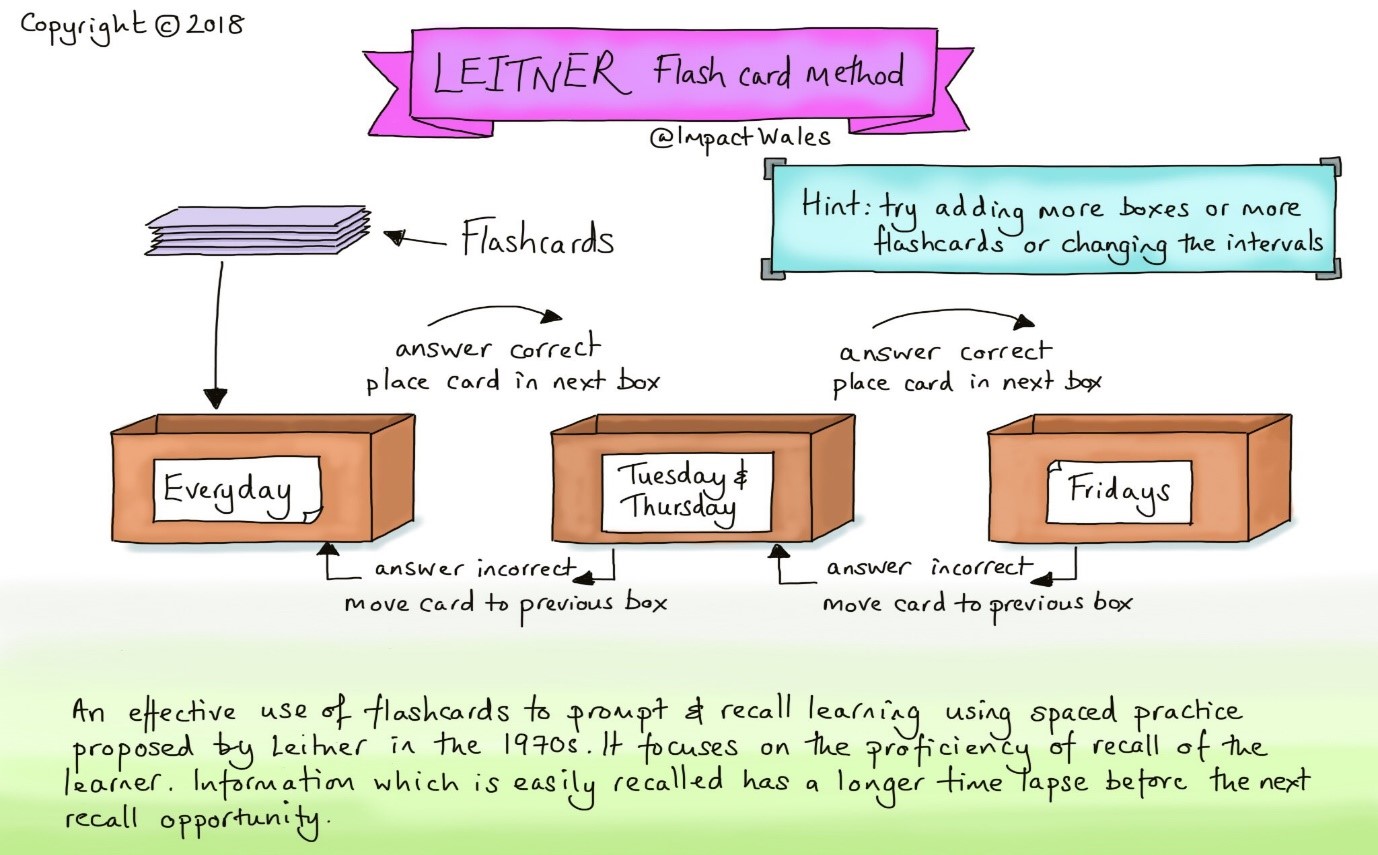 Click here for a video on how to use the flashcard method.
Student Illness/Injury
If your child is unable to access the learning due to illness/injury and are unable to complete work, please use your own judgement to decide how much of the work they have missed can be completed once they are well again.
Distance Learning FAQs
Question 1: Who do I contact for help?
Answer: Email enquiry@hillcrest.bham.sch.uk and your email will be forwarded to the relevant department or person.
Question 2: I can't remember my Satchel One log in details.
Answer: If you think you can remember your school email address, you can select 'Forgot Password' on the log in screen and you will get a link to reset your password. If you are unsure of the email address you used, email enquiry@hillcrest.bham.sch.uk with your name and form.
Question 3: My teacher wants me to upload my work but I don't know how to do this.
Answer: Full instructions on how to upload your work can be found on the Satchel help page or via the link below. It is possible to upload via a phone or tablet, but you will probably find it much easier to submit and upload work via a computer or laptop. The following instructions show a video demo to uploading work. https://help.teamsatchel.com/en/articles/2912000-submitting-my-work-online
Question 4. How do I ask my teacher questions or leave comments?
Answer: Information on leaving comments can be found via the link below https://help.teamsatchel.com/en/articles/2911863-leaving-comments-for-yourteachers/ You can only leave comments on the actual extended learning task itself. Select the extended learning, click on the Results Tab, type your comment in the text box, click Post comment.
Question 5: I can't do all of the work set.
Answer: We are just expecting you to do your best. It is important you take regular breaks, do some exercise and read in addition to doing some academic work
Question 6: I have not got a printer / enough ink.
Answer: The vast majority of work does not require printing. Most of it can be done on paper / in exercise books. Some tasks require online submission (see instructions above on how to do this). Please read the Satchel One instructions carefully as these often contain extra information on how to do the tasks.
Question 7: What is the point of doing work when I am in year 11 / 13 and my exams have been cancelled?
Answer: It is important you continue with consolidation tasks set by your teachers in all subjects as you may be in a position where you wish to sit exams when schools reopen. You also need to continue with studying as you need to maintain good working habits for your next steps in education or employment.
Additional Resources
In addition, to work being set by teachers the following websites are also available.
English and Reading
• Audible: free audio books for kids. Available for desktops, laptops, phones or tablets. https://stories.audible.com/startlistenfbclid=IwAR0oyCJyt63deV1PU6gK5MPMpcp1fobqkn02AgIDPGBBUd6n1DMo3sueTY
• Storyline Online: Free stories online for kids. https://www.storylineonline.net/
• Squiggle Park: www.squigglepark.com
• Reading ECB: Free reading activities for kids including drawing the story as you read. Can always be done in both English and Spanish. Why not learn a new language at the same time? https://reading.ecb.org/
• Typing Club: www.typingclub.com
• Writing Prompts: https://thinkwritten.com/writing-prompts-for-kids
Maths
• Carded: Free apps, cards, workbooks and activity guide to support mathematical development and thinking skills. https://www.dumondeducation.com/2020/03/14/save-money-time-stress-access-free-dumond-resources-to-support-home-learning-during-covid-19-closures/?fbclid=IwAR0nETXGG10vb3hCFjQ_DQQVvSVHkrYIae5paKS7TF5HiU0oLMMlAYKW2w0
• The Maths Factor - Carol Vorderman: https://www.themathsfactor.com/
Science/ STEM
• Human Anatomy: Learn about the human anatomy for free. https://www.innerbody.com/htm/body.html?fbclid=IwAR37cqrHFhQneQaX-U1OUZlCDxA_c4penjEHb-al9cZU-6kYP2D4BkQA9KM
• Mystery Science: Free science lessons. https://mysteryscience.com
• Crest Awards: Science awards you can complete from home. https://www.crestawards.org
• National Geographic: https://kids.nationalgeographic.com https://natgeokids.com/uk/
• Science Max: weekly science activity videos https://www.youtube.com/channel/UCbprhISv-0ReKPPyhf7-Dtw/videos
• Science Channel: Youtube videos about science https://www.youtube.com/user/ScienceChannel/videos
• SciShow Kids: Weekly science videos for kids covering those Why Question topics. https://www.youtube.com/user/scishowkids/videos
• National Geographic Kids: Free youtube videos about science topics https://www.youtube.com/channel/UCXVCgDuD_QCkI7gTKU7-tpg/videos
• Science Kids: Free science videos and activities for all ages. http://sciencekids.co.nz/
Physical Education
• The Body Coach: Offering free daily live PE lessons at 9AM Monday- Friday. Lessons are recorded so can be accessed any time. https://www.youtube.com/user/thebodycoach1/videos
• Cosmic Kids Yoga: Free yoga videos for all ages. https://www.youtube.com/user/CosmicKidsYoga/videos
Computing
• Blockly: Learn computer programming skills- fun and free https://blockly.games
• Scratch: Creative computer programming- Free. https://scratch.mit.edu/explore/projects/games/
• Geek Gurl Diaries: Youtube videos covering computing topics https://www.youtube.com/user/GeekGurlDiaries/videos
• Tynker: Free coding for kids https://www.tynker.com/
Art
• Rational Symmetry Names Activity: Perfect math and art activity. https://reliefteachingideas.com/2013/09/01/rotational-symmetry-names/?fbclid=IwAR0q8rbyVUbFZIp_CYv4rfU8uaSwMguAoN79IbjGSxcWM7YeSuitsCdB8eI
• Red Ted Art: Fun and easy arts and crafts: www.redtedart.com
• The Imagination Tree: Creative art and craft activities for the very Youngest: https://theimaginationtree.com
• How to Toon: Learn to draw quick and easy cartoons. https://www.youtube.com/channel/UC0thYMtZj_O2jV6nS-RY7Fw/videos
History
• Big History Project: Aimed at Secondary age. Multidisciplinary activities https://www.bighistoryproject.com/home
• History for Kids: www.historyforkids.net
Geography
• Geography Focus: Youtube videos covering Geography focusing on countries and areas https://www.youtube.com/channel/UC8HYERScBt-e0kV0fpe0asg/videos
• National Geographic Kids Website: https://www.natgeokids.com/uk/
Other Online Resources
STEM
• Boeing Future EU: https://www.boeingfutureu.com/
Manufacturing
• Manufacture Your Future: https://www.manufactureyourfuture.com/VirtualFieldTrip/US
Zoos
• Edinburgh Zoo (UK) (Panda, Koala, Penguin, & Tigers) http://www.holidaypirates.com/recommends/HERE/387652/post_content/35765
• Marwell Zoo (UK) (Flamingo, Penguin Giraffe, & Lemur) http://www.holidaypirates.com/recommends/HERE/387657/post_content/35765
• Dublin Zoo (Ireland) (Elephants, Penguins, Giraffes, Rhinos, Ostrich, Zebras) http://www.holidaypirates.com/recommends/HERE/387659/post_content/35765
• San Diego Zoo (USA) (Panda, Penguin, Baboon, Polar Bear, Ape, Koala, Giraffe, Burrowing Owl, Condor, Elephant & Tiger) http://www.holidaypirates.com/recommends/HERE/387660/post_content/35765
• Houston Zoo (USA) (Giraffe, Gorilla, Chimp, Elephant, Leafcutter Ant & Rhino) http://www.holidaypirates.com/recommends/HERE/387667/post_content/35765
Science and History Museums
• Pergamon Museum, Berlin: Plenty of ancient artefacts https://artsandculture.google.com/entity/pergamon/m05tcm?hl=en
• Mount Vernon Virtual Tour: Interactive virtual Tour of George Washington's Home https://virtualtour.mountvernon.org/
• Colonial Williamsburg Live Cams: Check out historic Williamsburg https://www.colonialwilliamsburg.org/webcams/
• Holocaust Museum: https://www.ushmm.org/information/exhibitions/online-exhibitions
• Museum tour https://hellogiggles.com/news/museums-with-virtual-tours/
Space
• Interactive Mars Virtual Tour: Check out Mars in a fun way. https://accessmars.withgoogle.com/
• Tour the ISS: https://www.nasa.gov/mission_pages/station/main/suni_iss_tour.html
• 3D Tour of ISS from European Space Agency: https://www.youtube.com/watch?v=UDW_GSFOg0I&list=
• 3D interactive tours of several space destinations: http://www.3dmekanlar.com/en/3d-space.html
Virtual Hike
• Great Wall of China Take a virtual hike of the Great Wall of China. https://www.thechinaguide.com/destination/great-wall-of-china